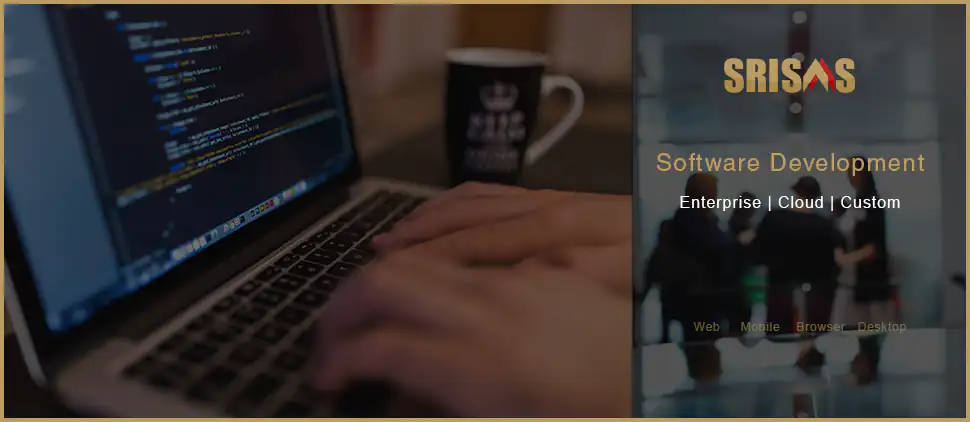 SriSAAS is a leading Custom Software Development Company based in Hyderabad, India.
Why should you opt for Custom Software Development ?
We help you with designing, deploying and maintaining software specific to your business needs.
Our Custom Software Development Services are ideally suited to clients whose requirements are not met by Commercial Off the Shelf Software, and they have a very specific set of requirements defined as per their business needs.
Our creative and highly experienced team of software developers in Hyderabad analyze your Business Challenges and develop software solutions to increase efficiency and productivity of your Business, resulting in higher returns.
Our Software Technologies and Software Development practices
At SriSAAS we generally work with Open Source software that is widely supported by the development community. This helps us deliver Custom Software Development applications for Small Businesses, Startups and Enterprise Clients.
At SriSAAS we started out as a Web Development company in Hyderabadand delivering cutting edge solutions over the Web has been in our DNA. We create a variety of Web Applications like Progressive Web Applications ( PWAs ), Single Page Applications ( SPAs ), Web Portals and many more.
Our developers implement Cloud based Software Solutions for your project if it's suitable as per requirements. We work across a variety of Cloud Service Providers including Amazon AWS, Google Cloud Platform, Cloudflare Edge Solutions.
We develop both Stand Alone Web Applications as well as Mobile Clients for Web based applications. We work with both Hybrid Apps and Native Mobile App development based on Client's Requirements.
If you are looking to develop a Custom Ecommerce Application – whether an Online Store or an innovative new Ecommerce Service, we have got you covered. We help you develop Ecommerce Solutions for both the local and the Global Market.
Explore the Potential of the SaaS market with a Niche SaaS or a Micro SaaS service. SaaS is one of the Fastest Growing Business Categories online. Our SaaS Software Development service helps take your SaaS idea online.
Advantages of Custom Software Development
A frequent consideration for our clients is that CUstom Software development helps solve their unique requirements when compared to off the shelf Commercial software with complex licensing, pricing and maintenance.
Some of the advantages of Custom Software Development include :
Efficiency : Custom software is designed as per your current or desired Business processes. You are saved from many organization issues of Commercial Software like process realignment and then training in process and software.
Scalability : Custom Software that is developed for your organization's needs can be modified and scaled as your business grows. We can even help you assess your Future Business Needs and develop the software accordingly. This also is cost effective when compared to the cost of purchasing licenses and subscriptions for a growing team.
Easy to Integrate : Custom Developed Software can be easy to integrate with various other software that you would be using. It's easier to create modules for a custom software to communicate data between different software as desired. In a commercial software you might be constrained.