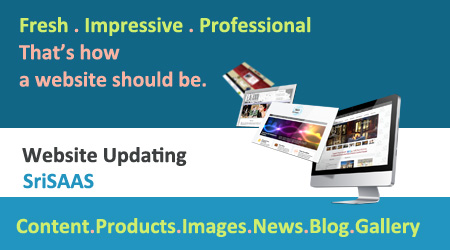 Website Updating Services
SriSAAS helps you run your business smoothly by saving valuable time and effort that you would spend on your website. Why have an outdated website that will drive away visitors to your competitors ?
With SriSAAS, your website gets regularly updated and you get to present a professional image to visitors.
Our plans range from providing basic updates to the website every month – like updating products, news, images etc to a more exhaustive services.
Some of the things that we do to keep your website up to date, fresh and relevant with regular content updates like :
Content Updates: Fresh content can add value to the website visitor who will find the information more relevant and thus find your services/products.
Seasonal Changes: Latest offers for Festivals, or just wish the visitors. These small actions make the visitor feel special.
News, Specials and Events: Create a corporate blog and let people discover the latest updates in your organization, New products and the stories you wish to tell them.
Contact Details and Location Changes: Added a new Branch ? Inform your customers. Update phone numbers, Addresses and email address. Provide details of the right people to contact.
New Images: You are doing new activities everyday, why not update the images of your products, the logos of your clients or just the gallery to show the latest happenings in your organization.
New Features and Products: List your new product on the home page so that customers know about it! Update shopping cart, List information about your new services. Your website is the best place to advertise the latest happenings.
Staff Changes: An organization that list the members of their staff, provide the contact details of your marketing / sales or support team. Help your customers reach out to those they need to be in contact with.
Website Maintenance Rates
At SriSAAS we deliver a website modification with a average turn-around time of 2-3 days.
Prices are charged on a per hour basis at our current hourly rate. The minimum charge for modification work is half an hour (0.5 Hours).
Time for Edits Price Turnaround Time for Edits
1. 1 Hour/Month $10 / INR 550 12 Hours
2. 2 Hours/Month $20 / INR 1100 12 Hours
3. 5 Hours/Month $45 / INR 2475 12 Hours
4. 10 Hours/Month $85 / INR 4675 12 Hours
5. 10+ Hours/Month Contact Us Dedicated Support Team
We are happy to provide you with an estimate price on any job we receive.